GraniteFuel Engineering is thrilled to be at the forefront of Florida's renewable energy revolution. In a May article by Biomass Magazine, the completion of the RNG facility at Alliance Dairies was celebrated, marking a significant milestone in the state's journey towards sustainable energy. We're proud to have been involved as the chosen equipment supplier for this groundbreaking project, providing all the essential components of the RNG plant.
A New Chapter in Florida's Renewable Energy Story
The Alliance RNG facility, constructed and operated by TECO Peoples Gas, is fully operational. It's projected to produce a staggering 105,000 MMBtu of RNG annually, serving approximately 4,400 homes. This impressive output is sourced from the waste of around 6,500 cows, which is then refined into pipeline-quality natural gas.
Helen Wesley, president and CEO of Peoples Gas, expressed the company's commitment to Florida's clean energy future, stating, "Peoples Gas is proud to be a leader in Florida's clean energy future and to contribute to our state's energy diversity." She further emphasized the dual benefits of the facility, highlighting its role in both reducing emissions and creating a new revenue stream for Alliance Dairies.
Alliance Dairies: Sustainability at its Core
Alliance Dairies has long led in sustainable practices, recycling water and sand and harnessing methane for energy. Jan Henderson, CEO of Alliance Dairies, shared, "We are firm believers in renewable resources and have long incorporated sustainability into our operations." This partnership with Peoples Gas and GraniteFuel Engineering highlights their dedication to sustainability. It marks a significant win for both Florida's dairy farming sector and the broader community.
Pioneering RNG in Florida
Back in 2017, Peoples Gas made history as the first utility to gain approval from the Florida Public Service Commission to pursue RNG service in the state. The Alliance RNG project, powered by GraniteFuel's state-of-the-art equipment, is a continuation of this pioneering spirit, pushing the boundaries of clean energy sources in Florida.
Commissioner of Agriculture Wilton Simpson lauded the partnership. He emphasized its role in bolstering domestic and renewable energy production and strengthening Florida's agricultural sector. Additionally, the partnership creates economic opportunities without the need for additional government regulation.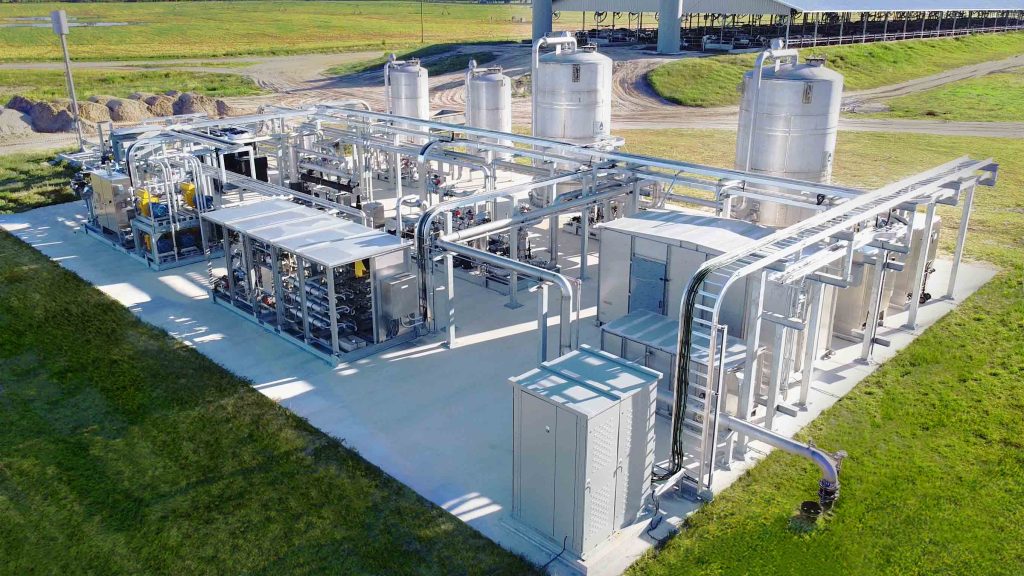 The Power of RNG
Renewable natural gas, or RNG, is derived from the organic waste found in landfills, water treatment plants, and agricultural sites. As this waste decomposes, it produces biogas, primarily composed of methane. Through the RNG process, this methane, which would otherwise be released into the atmosphere, is captured, cleaned, and refined. The result? A reliable and cost-effective energy source that mirrors traditional natural gas but offers net-zero or even negative emission levels.
Looking Ahead
The Alliance RNG facility is more than just a renewable energy project. It's a testament to what can be achieved when innovation, sustainability, and collaboration come together. GraniteFuel is proud to play a pivotal role in this endeavor, providing the essential equipment that powers this RNG plant. As we look to the future, we're excited about the possibilities that RNG holds for Florida and beyond.
For a more detailed look at the Alliance RNG facility and its significance, check out the full article on Biomass Magazine.